CHICHA UK
Peruvian food is becoming a popular choice for foodies in London, it's warming, tasty, hearty and a little bit different.
El Peruanito, a new Peruvian street food stall, is part of this new trend. Our food is inexpensive, authentic and so perfect for warming up cold evenings And We provide catering for private events.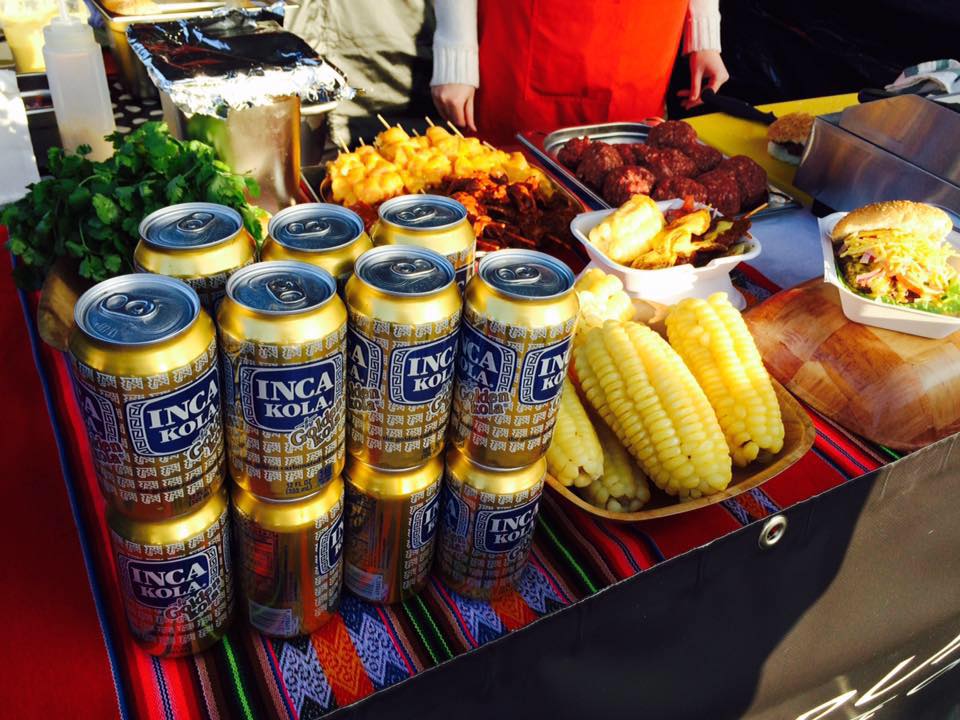 Who we are
We are a family run business with the sole aim of creating authentic, time-honoured Peruvian food.
Our key is to use simple, fresh ingredients that produce delicious flavours and are representative of the gastronomic fusions and ethnic influences of Peruvian culture. For Peruvians, food is and always has been a way of living, it is how we express ourselves and is part of our history and being, it is for this reason that we wish to share one of the best, secreted cuisines of the world.
Our menu changes depending on the season, ranging from anticuchos (traditional beef heart and chicken grilled skewers), ají de gallina (pulled chicken in a creamy yellow chili sauce) and lomo saltado (stir fried beef) in the winter to lighter dishes in the summer such as the typical Peruvian ceviche (fresh fish marinated with lemon juice and fresh chili and red onion salsa). All of our products are sourced locally where possible, our meat for example comes from Smithfields Market.
As a Peruvian, I have grown up with street food and markets. I love the vibrancy of the people and the fun atmosphere it creates, as well as the ability to buy such fresh food that above all is made with love.
As such, I would now like to bring to the growing UK street food scene my true representation of Peruvian food and share my gastronomic experiences with them.
What we do


Anticuchos
It is the classic Peruvian street food. Our Anticuchos (skewered meats) are made from ox heart (the traditional option) or chicken – which are cooked in delicious aji panca marinade and literally melt in your mouth.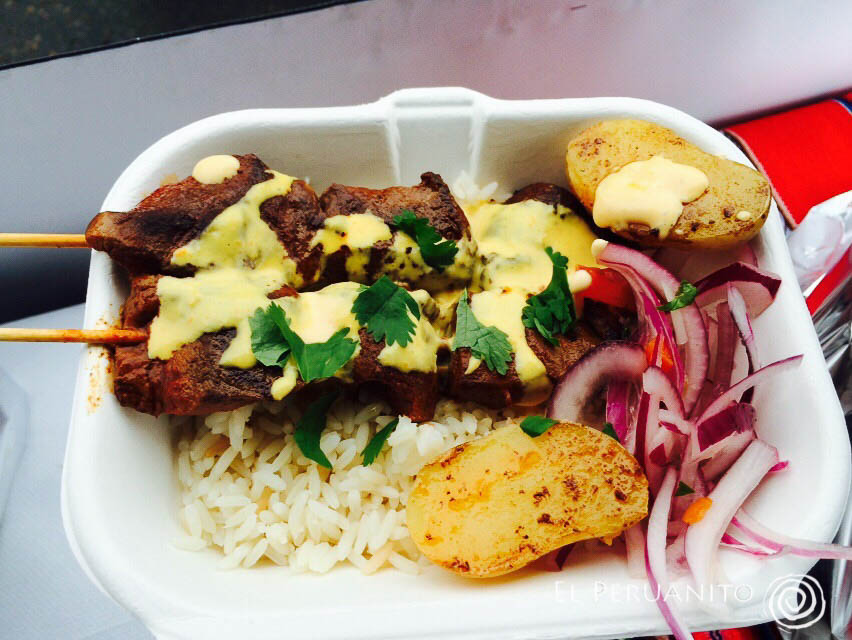 They are served with giant Andean Choclo Corn – the biggest corn on the cob you will ever see in your life and with a really filling and different texture; grilled baby potatoes; Salsa Criolla – red onion salsa; and topped with Peruvian huancaina and huacatay – green and yellow chilli sauces, which are both fresh and creamy tasting, with just a little throat-warming kick . You can also add rice.
Aji de Gallina
This dish is a hearty portion of pulled chicken, smothered in the yellow chilli sauce and served up on a bed of rice. It's creamy, it's fresh and it's so delicious. This makes an awesome lunchtime dish.
Papa a la Huancaina
For those of you who prefer to steer clear of meat, this one's for you. All of the tasty components that come with the anticuchos, but veggie-friendly.
Giant Andean Corn
The Peruvian Burger
If you'd rather go for something a little more familiar, El Peruanito also offers a fabulous burger option. This is a chunky 100% beef burger, topped with Salsa Criolla, the huancaina and huacatay chilli sauces and potato chips – potatoes mean a lot in Peru! Who said burgers need to be boring?


Inca Kola
Similar in taste to a cream soda, this crazy Peruvian drink is luminous yellow but it does taste good and is rather addictive.